A Hearty Meal
Posted by Carlo Lim Imatong on
Having a healthy a nutritious meal can contribute greatly to keeping yourself healthy. However many people are discouraged about taking healthy meals because some meals do not taste as great as a less healthy meal. Hence, here is a menu of easy to make hearty meals that will surely please your palate and still keep you healthy throughout the day.
1. Fruits with Pancakes (Breakfast)
Pancakes are delicious on their own and with maple syrup but with the addition of fruits such as Blueberries, Strawberries, Bananas, etc. there's a whole new level of flavour accompanied by tons of nutritional value.
Furthermore, the pancakes sneak in extra fiber on top of the fiber-rich fruits like the strawberry. Definitely a hearty meal for breakfast to power you through the day!
 Click for Fruity Pancake Recipe.
2. Baked Chicken Cutlets with Pineapple Rice (Lunch)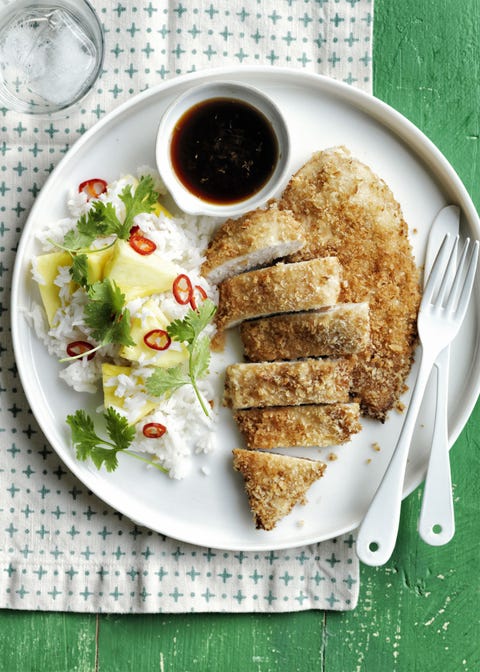 The ordinary flavours of a chicken are boosted with ginger which is said to reduce coronary heart diseases by 13% when it is consumed daily. The nutritional chicken is accompanied by rice mixed with pineapples and cilantro. 
Cilantro is a good source of antioxidants like many fruits and vegetables and it includes anticancer effect and improves skin health as well. Pineapple on the other hand contains low amounts of anthocyanins, a power antioxidant that helps reduce the risk of a many diseases such as heart disease. 
Get the recipe here.
3. Pancentta, Kale and Brussels Sprout Fettuccine (Dinner)
A hearty meal that can be made in 20 minutes, a short time in our busy lives. The tasty and nutritious meal uses egg pasta which offers more protein and amino acids as compared to regular pasta. Furthermore, a main ingredient of this meal is brussels sprouts.
They are high in fiber which promotes regularity, supports digestive health and reduces the risk of heart diseases and diabetes.
Find the recipe here.
There are many other meals that are hearty and good for the heart. These are just 3 of the ones that we think are interesting and benefits your health. We hope that you've gotten a thing or two from this, maybe from finding out which ingredient is beneficial or maybe you've found you're new favourite dish. Whatever it is, we hope that you've find this blog useful. Stay Healthy!
---
Share this post
---
---
---
0 comment